Water Leak Detection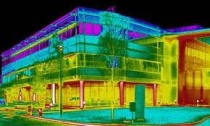 Thermal Imaging Building Scans / Infared Camera Inspections : Infared cameras alllow our certified contractors to detect the temperature signature of moisture, even if the moisture is underneath a surface that is completely dry and covered by paint and or other finishes. In most cases, moisture simply can't hide from an IR Camera. IR Cameras can sense the slightest temperature differences between wet and dry surfaces in most building materials, including drywall, insulation framing, roofing, stucco, siding, furniture, carpet & more. If you need water removal service, water damage restoration service, mold removal service or leak detection service in Gainesville Florida call Gainesville Leak Detection Inc 24 hours a day.
Instantly locate source of water leak and moisture damage in floors, walls and roofs without removing building materials.
Inspect hard to reach areas that conventional methods cannot.
Prevent major damage by identifying emerging problems early.
Provide credible, accurate and comprehensive documentation for your peace of mind and insurance company.
Leak Detection Gainesville Florida CALL NOW FOR IMMEDIATE SERVICE (352)672-6656